EAW KF650 Point Source Array Speaker

Need to rent a mid-sized sound system for your event? Our EAW KF550 is the perfect solution for a variety of medium indoor and outdoor events.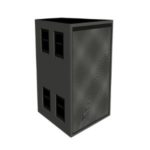 The KF650e is a 3-way, tri-amplified full range system in a vented trapezoidal enclosure. Included is a 15″woofer in a wave guide cavity, a horn-loaded 10″ mid-range cone and a 2″ exit compression driver mounted co-axially in the wave guide cavity on a 60 x 45 constant directivity horn. Suspension hardware allows these cabinets to be flown to obtain optimal coverage.
Not Sure about What you need?
We can help.

Tried and true, the EAW KF65- Point Source Array speaker is a 3-way speaker enclosure that packs a punch. With a pair of these on each side of the stage, you can easily cover an event with 3,000 in attendance.

Check out some of our other products that you may be interested in!
Let's start something great together.
Our dedicated team of event professionals want to talk to you. From idea, to planning, through event operation, we are ready to guide, advise and collaborate every step of the way.