Stanley Cup Pregame Concerts

The 2018 Stanley Cup Championship Series was nothing short of a big deal for the Washington Capitals and the District of Columbia. Overwhelming support was shown outside of Capital One Arena throughout the series, and it was an honor to be included in the festivities. Games 3 and 4 featured nationally televised, pre-game performances by Sting, Shaggy, and Fallout Boy. Tens of thousands of fans congregated for a Game 5 Viewing Party, cheering on the Caps as they triumphed to secure DC's first Stanley Cup Trophy. The celebration continued with over 100,000 patrons gathering for the parade, consuming the National Mall and Constitution Ave.
Our task, for this high profile string of events, was to supply a touring grade PA System along with an assortment of ground supported, load bearing structures. Our Clair i-Series line array was a natural and appropriate go-to for PA. Not only was the talent familiar with, and happily accepting of the cabinets, the rig had plenty of horsepower, delivering pristine audio with headroom to spare. We utilized Array Towers at delay locations for the games and the parade, ensuring audio was heard clearly for blocks. Our James Thomas self-climbing roof proved to be a perfect solution for the concerts, with the staging area located atop the steps of the National Portrait Gallery. We built various risers throughout the venue for media, a jib, and production control. It was a grueling 12-day run that kept us on our toes with details unfolding as the series progressed. Fortunately, we had a crew full of playmakers, and everything went off without a hitch.

Check out some of the equipment rentals that were used on this project.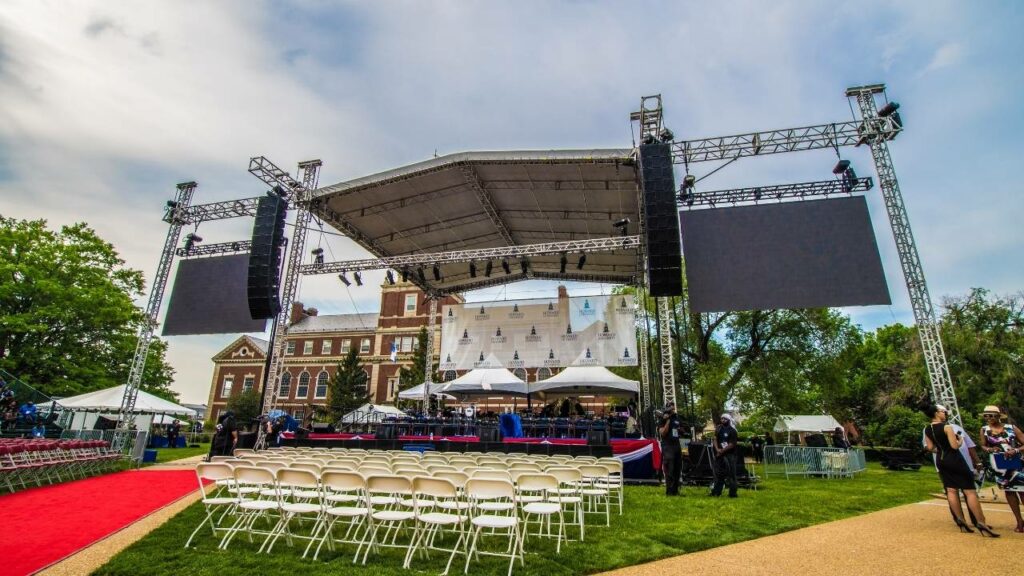 Experienced. Dependable. Honest. Transparent Communication. Attention to detail.
At Klassic Sound and Stage, we enjoy working with clients we believe in, alongside co-workers we like. We know that through excellence and honesty, success is always achievable.  Our team takes pride in our livelihood by executing every conversation, every task, and every contract to the absolute best of our ability.